Posted on January 21, 2016 by Yang Yang Sim
Hey guys! Did you know that Minneapolis is the most bike-friendly city in the U.S.? As a matter of fact, Minneapolis is the only city in the U.S. on the world's most bike-friendly list. Here's an article from the Star Tribune which talks about it.
So what makes any city, or Minneapolis specifically, bike friendly?
For starters, the streets of Minneapolis have over 100 miles of dedicated bike lanes and over 90 off-road bike trails. When I mean dedicated bike lanes, I don't mean marginalized, foot-long bike lanes at the very side of the road with near-misses from cars. I mean this
Notice the buffer, or space, between the bike lane and the car lane. When I bike at downtown Minneapolis, I feel very safe and not have to worry about near-misses from cars. Not that I have to anyway since drivers in Minneapolis are very safe in comparison to cities like Chicago or suicidal drivers in other countries which I shall not disclose. =)
Secondly, there are TONS of bike shops in Minneapolis and facilities that encourage people to bike. We have at least five bike stores within the vicinities of campus which offers an immense variety of bikes you can choose from. If you're feeling tired on your bike and still have another five miles to go, not to worry. Buses here have two bike holders in front, which you can conveniently place your bike. Even the light rail has multiple bike holders for your convenience! On top of that, there are places to park your bikes EVERYWHERE. Don't worry about having to park your bike half a mile away from your favorite restaurant.
The campus itself is a really convenient place to bike too. As the campus is really big, you should definitely consider biking if your classes are all over the campus. The dedicated bike lanes are really convenient and it's very safe to bike on campus too. The university also has resources for biking on campus which you can check out. Here's a picture of the bike lane on the main part of campus:
Note how wide the bike lane is.
Want to get your bike fixed without having to drop loads of cash? Or do you want to learn how to fix your own bike? Not too far from the West Bank campus lies a bike community center called Spokes. There you can learn to fix your bike with guidance from volunteers, all of that for free! Parts sold there are significantly cheaper than commercial bike stores and on top of that, you can volunteer in turn for free bicycle parts! Spokes, in my opinion, is the most useful bike resource around the vicinity of the U of M campus, if not the city itself.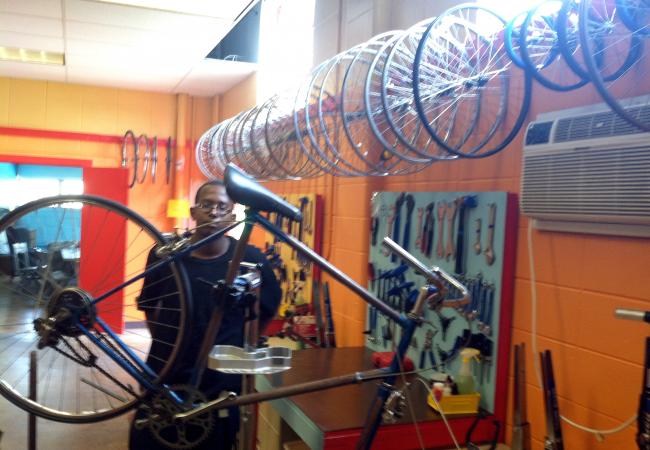 Spokes also provides a lot of tools you can work with when fixing your bike.
Bottom line, biking is really awesome if you go to school here or live in Minneapolis. I will probably add a part 2 to biking in Minneapolis sometime in the near future. That's it for now. Until next time!